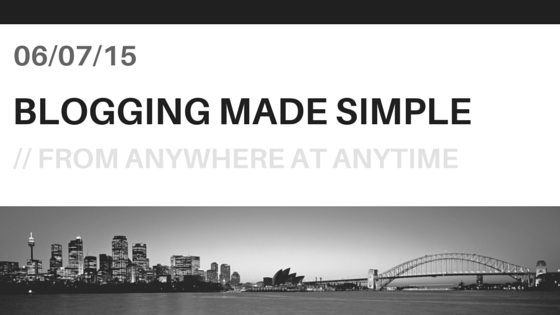 We have all heard the term ….Keep it simple.
For whatever reason people think about blogging and get overwhelmed, which makes them avoid doing it.
I KNOW ………..I was there. 
I LOVE writing …..that wasn't my issue, it was something about the process that halted me every time.
Until my coach taught me a very effective and yet very simple method. 
Figure out what you would like to talk about.( I keep a running list )
Open up google keywords took and research the keywords. ( to be honest I do not always do this step )
Open up gmail on your phone, write an email to yourself and turn on your mic .
SPEAK ……..SAY what you want to write ( the mic will capture your words in easy conversation tone)
Copy and paste it, do whatever light editing to your words ………..throw up a photo. Call to action.
YOUR DONE. 
SERIOUSLY …………..keep it that simple.
In the end …..DONE IS ALWAYS BETTER THAN PERFECT. 
If you are ready to stop up your game comment below and say IM READY 🙂 then go write a blog post !
Lots of Love,
Sue